Remember the Splash page, circa 2001? Back then the World Wide Web still had that new communications smell and many of us working in it were transitioning over from print and other more traditional mediums. In hindsight, it isn't surprising that we tried to make the user's first interaction with a Web site what we knew best—an advertisement.
It didn't work. Not even close. In Top Gun terms, the Splash page crashed and burned, quickly, even for the short lifespan of Internet fads. Site users, via the "Skip Intro" or "Enter Site" links, taught us that the rules for the Web were different. No longer was it up to us to decide what they viewed. Instead, they were going to tell us what they wanted to see. And it wasn't Splash pages.
This rejection was puzzling. After all, we were doing cool things on Splash pages with Flash, a newfangled, fast-growing form of multimedia. Flash enabled us to have little men climbing out of boxes to show how out-of-the-box we were. We had spinning pinwheels, just because. And of course there were animated flames—just like real fire without the risk of third-degree burns. We were light years ahead of the dog-licking-screen phenomenon.
What we thought was cool, however, didn't exactly translate into smart strategy. Those of us with budgets to keep were in for another rude awakening: Flash was expensive. It was a lesson learned the hard way: just because we could, that didn't mean we should. To best utilize Flash we had to abandon gratuitous eye candy and learn how to use it responsibly in ways that improved the user experience. We adapted by developing smart features such as dynamic rollout menus and photo slideshows.
Flash-forward to today and Flash is once again in the crosshairs. The current state of the economy has shrunk many Web budgets, forcing us to take a closer look at how we code sites. Advances in JavaScript, CSS and now HTML5 enable us to cost-effectively develop functionality that previously could only be accomplished with Flash.
Apple is also blowing the winds of change by not supporting Flash on the iPhone, iPod and iPad. This decision has garnered so much buzz that Steve Jobs recently released his Thoughts on Flash, which appears to make one thing clear: Flash is a ship that will never sail on Apple's mobile devices. At least not anytime in the foreseeable future, which begs another question: will other mobile manufacturers follow Apple's lead?
From a competitive standpoint, it seems logical that other manufacturers will try to support Flash. According to Slate.com, "Nineteen of the top 20 handset manufacturers are moving to adopt Flash; soon nearly every phone and smart device will carry it."
The key takeaway from the mobile Flash debate is that the Web landscape is changing and Flash may or may not be a part of its future. Even if mobile devices don't account for a significant amount of traffic on your site today, their exponential growth warrants us thinking twice about Flash. If you're developing a site now with a hopeful shelf life of three to five years, are you willing to bet against the possibility that very soon a significant number of site visitors won't be able to access Flash?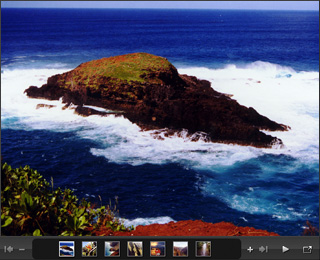 All of this isn't to say that Flash no longer has a practical purpose. For example there are numerous third-party media showcases such as the one shown here from SlideShowPro that can be integrated into sites relatively inexpensively. In this case the cost savings outweigh the possibility that some users won't be able to access it.
The moral of this blog post is that clients, designers, programmers and project managers all need to collaborate more now on design strategy than ever before. Quite often small design changes can make a difference between the necessity for Flash, and in these situations you should be asking your Web team whether the pros outweigh the cons. Just keep in mind the lesson we learned from Splash pages: just because we could, that doesn't mean we should.